Georgios Bougás' farm is located in Aegion on the Gulf of Corinth on the north coast of the Peloponnese.
Georgios has been cultivating his farm for many years according to the Biocyclic Vegan Standard and grows lemons, olives and oranges in an exemplary mixed culture. His farm is controlled by DIO (GR-BIO-001) according to the EU organic regulation and the Biocyclic Vegan Standard. He is a member of the Greek-Cypriot organic farm network PANHELLENIC BIOCYCLIC VEGAN NETWORK
Georgios pays special attention to the revitalisation and rejuvenation of the lemon trees, which were damaged by the strong and, for the region, completely unusual frosts of 2002, 2004 and 2008. By carefully nurturing the young shoots, he succeeded in preserving the strong root system. Healthy shoots and beautifully shaped fruits are the result of his patient work. Georgios is pleased that in this way his lemon grove has not only recovered, but is in better shape than ever before.
Georgios is able to harvest something from his farm throughout the year. When the lemon harvest ends in early summer, he starts with the juicy Valencia oranges, which had survived the frost better and therefore did not need to be rejuvenated. In winter, the lemons are harvested almost at the same time as the juicy Maglino lemons.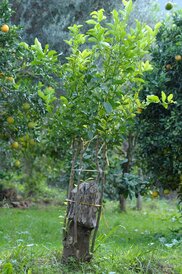 When you enter Georgios' citrus grove, you feel from the first moment the love with which he cares for his trees. He has a very personal relationship with his plants; perhaps he even addresses each tree by name when no one hears him. Everyone who buys his products contributes a bit to this exemplary organic farmer receiving a fair price for his efforts, because biocyclic vegan agriculture also means fair remuneration for dedication and transparency and the services to the environment and the soil. His small farm deserves to be supported in such a way.
Panhellenic Biocyclic Vegan Network
Raphael Santi 58
Nefeli Court 11, App. 202
CY-6052 Larnaca
Cyprus