The first growers became certified biocyclic vegan in 2017.  Please see below the portraits of a number of operations that have been certified until today or that are preparing for biocyclic vegan certification. For approximately 30 certified farms in Greece and Cyprus the portraits are still to be published.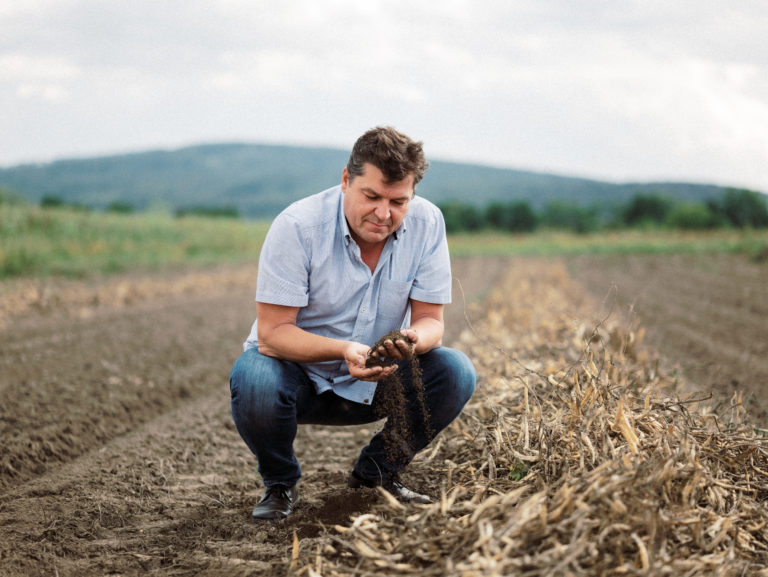 Austria, Hungary, Romania
The company Strassner Family Farms is based in the east of Austria close to the Hungarian border. It consists of operations Austria, Hungary and Romania, of which the Hungarian divisions have already been certified as biocyclic vegan. Besides the standard arable crops, such as cereals, corn and soya, the operation produces pumpkin seeds and beans. In addition, the company restarted its wine growing branch in 2009. 
Through intensive commitment and investment in renewable energies, Strassner Family Farms are CO₂ negative.
Harald Strassner, Pötschning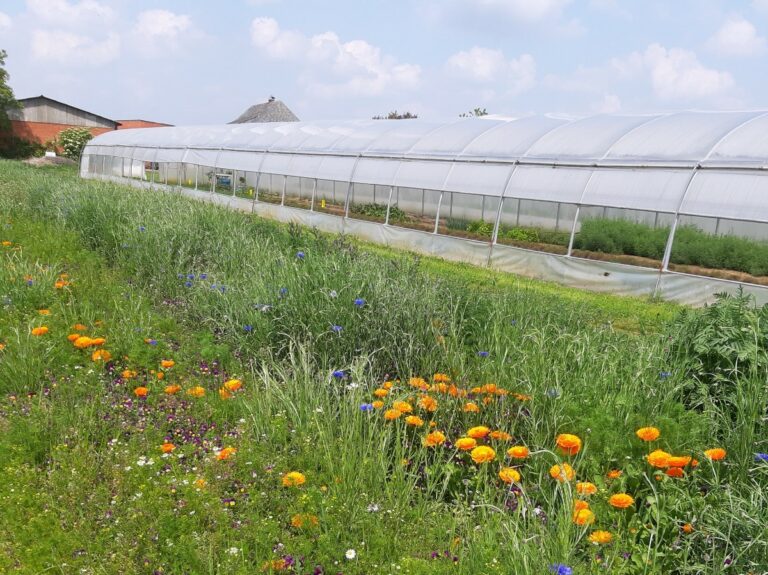 Foodmaker Farm, owned by the Belgian lunch chain Foodmaker, grows a large variety of crops, particularly herbs, edible flowers, fruits, grapes and also sweet potatoes.
The farm became certified according to the Biocyclic Vegan Standard in fall 2021 and is the first organic operation in Flanders to bear the Biocyclic Vegan Quality Seal.
Foodmaker Farm, Bekkevoort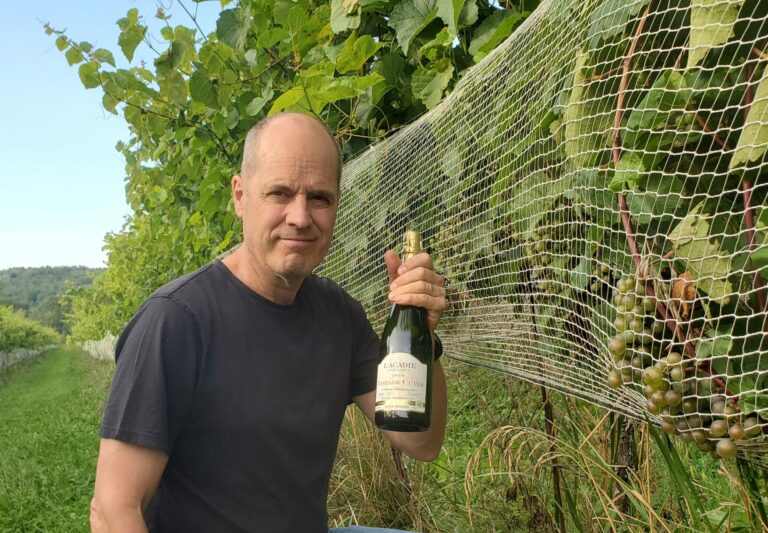 L'Acadie Vineyards is an organic winery in Nova Scotia on the east coast of Canada, founded in 2004 and owned by winemaker Bruce Ewert and family. L'Acadie Vineyards released the first traditional method sparkling wine for the wine region in 2008.
After having successfully completed the certification process in October 2021, they are the first biocyclic vegan operation in North America!
L'Acadie Vineyards, Gaspereau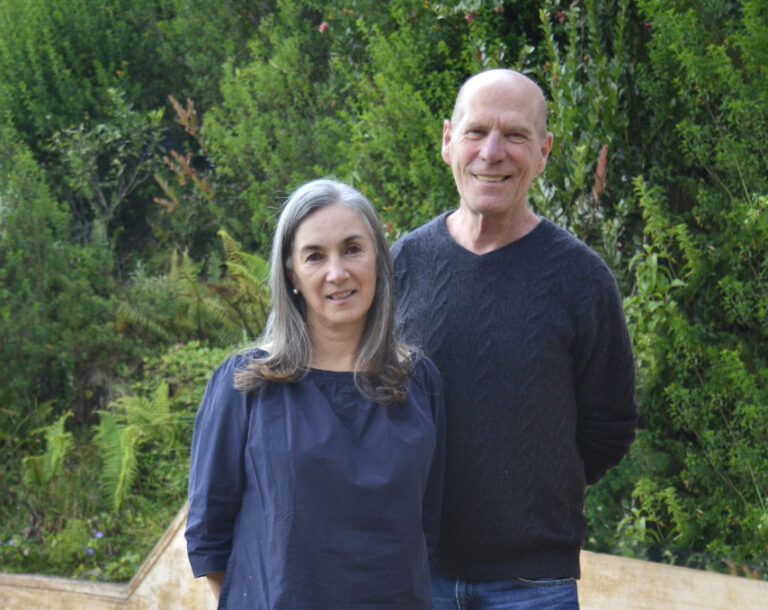 Finca Villa Paz was established in 1990 as a natural reserve high in the Andes mountains at an elevation of 2900 meters above sea level. In 1998 they decided to develop an organic vegetable production cultivating a great variety of vegetables suitable for the cold humid mountain climate. Together with other small farms in the region, they obtained the first organic certification awarded in Colombia in 2000. 
They have their own delivery infrastructure and sell to local restaurants and hotel chains. They also deliver their vegetables to many individuals and families in the city of Bogota.
Finca Villa Paz is currently preparing for biocyclic vegan certification.
Finca Villa Paz, Choachi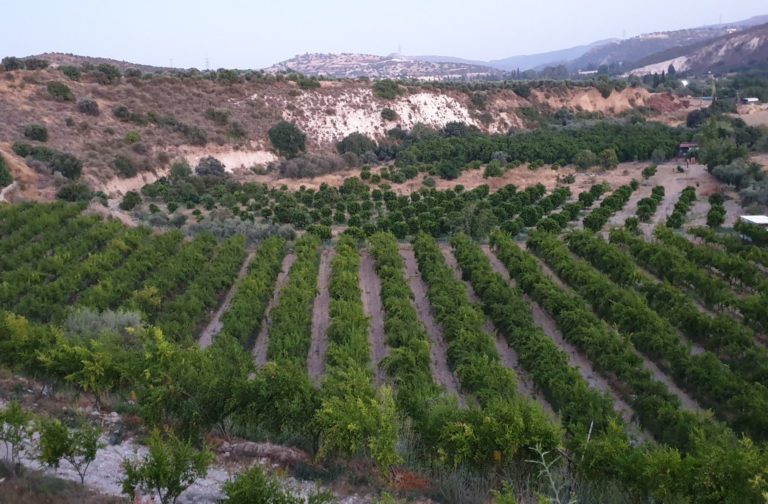 Foxystar Farm is an operation specialised in the production of pomegranates situated in the South of Cyprus in the beautiful semi-mountainous region between the cities of Larnaca, Lefkosia and Limassol. It was set up by Dr. Constantinos Constantinou who started to regenerate soil life and biodiversity in his stony orchards far away from any possible source of contamination.
Dr. Constantinou's holistic approach made his pomegranates orchards become a flagship of Biocyclic Vegan Agriculture far visible not only in Cyprus but in all the Eastern Mediterranean.
Foxystar Farm, Larnaca
Costas Economidis has been an organic farmer for many years. He grows Jaffa oranges, lemons, mandarins (mandoras), pomegranates, olives, potatoes and hokkaido squashes. His farm is located not far from the south-eastern coast of Cyprus, between Larnaca and Famagusta.
Costas Economidis, Dasaki Achnas
Georgios Georgiou has been working as an organic farmer  for 13 years and he became certified according to the Biocyclic Vegan Standard two years ago. He grows vegetables for the local organic shops as well as various fruits such as Jaffa oranges, grapes, pomegranates, almonds, figs and nectarines. He also produces olives of the Koroneiki variety.
Georgios Georgiou, Limnátis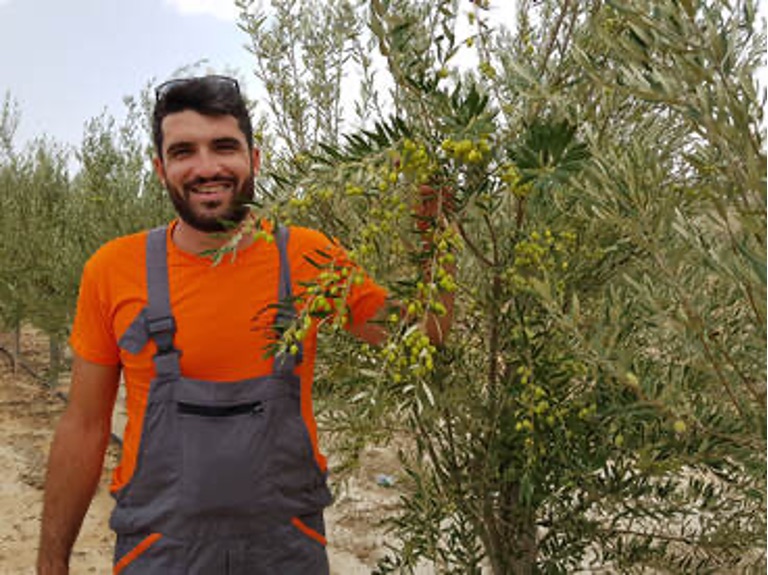 Giorgios Kailas is a young producer of olive oil in the village of Athienou, halfway between the port and cultural city of Larnaca and the divided capital of Cyprus, Nicosia.
Right on the demarcation line between the Turkish occupied and Greek parts of Cyprus, Giorgios practices biocyclic vegan agriculture at a military hotspot behind UN checkpoints, surrounded by former minefields and rusty barbed wire – a signal of peace and hope!
Giorgios Kailas, Athienou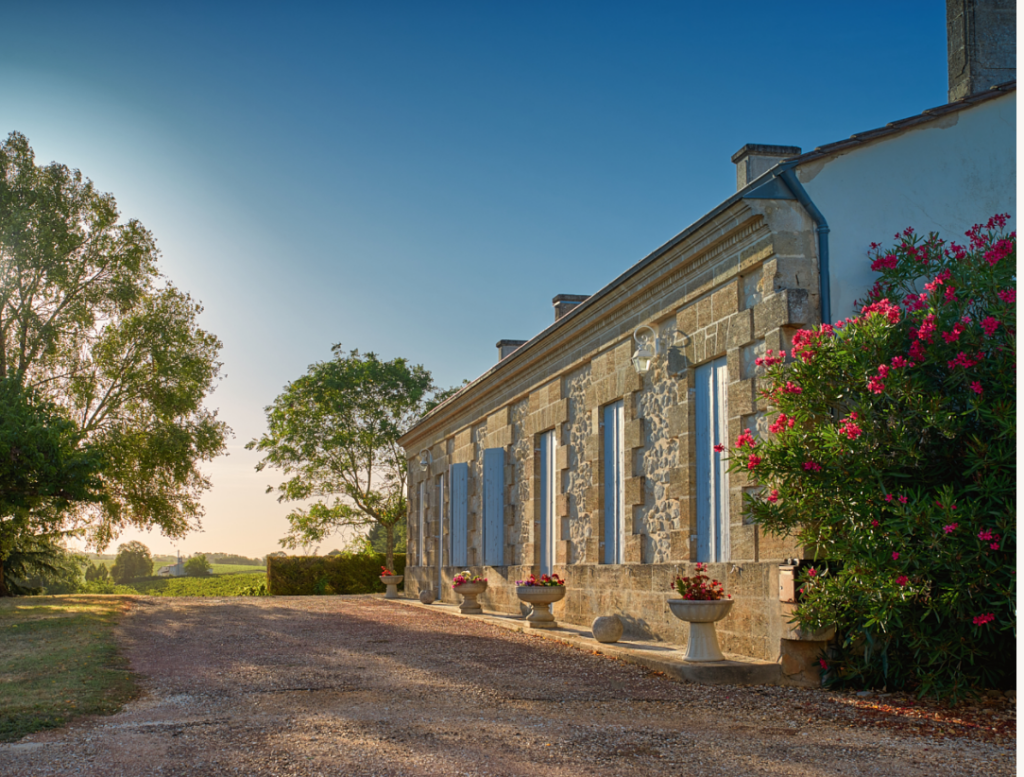 Hundreds of years old Château Puybarbe estate was transferred to Finnish ownership by Riku and Anna Väänänen during 2015-2018. This high-quality wine-producing estate enjoys a prime location on one of the highest hills in the Bordeaux wine region. 
Château Puybarbe is preparing for biocyclic vegan certification and will soon be permitted to use the Biocyclic Vegan Quality Seal.
Riku & Anna Väänänen, Mombrier
Biohof Hausmann in Rochlitz (between Leipzig, Dresden and Chemnitz) has been farming veganically for several years.
On almost 70 hectares, Daniel Hausmann grows herbs and vegetables as well as cereals, legumes and potatoes. He sells his produce mainly through his farm shop and a veggie box system, but he also sends the products throughout Germany by parcel service.
At the end of 2022, the farm was certified according to the Biocyclic Vegan Standard.
Daniel Hausmann, Rochlitz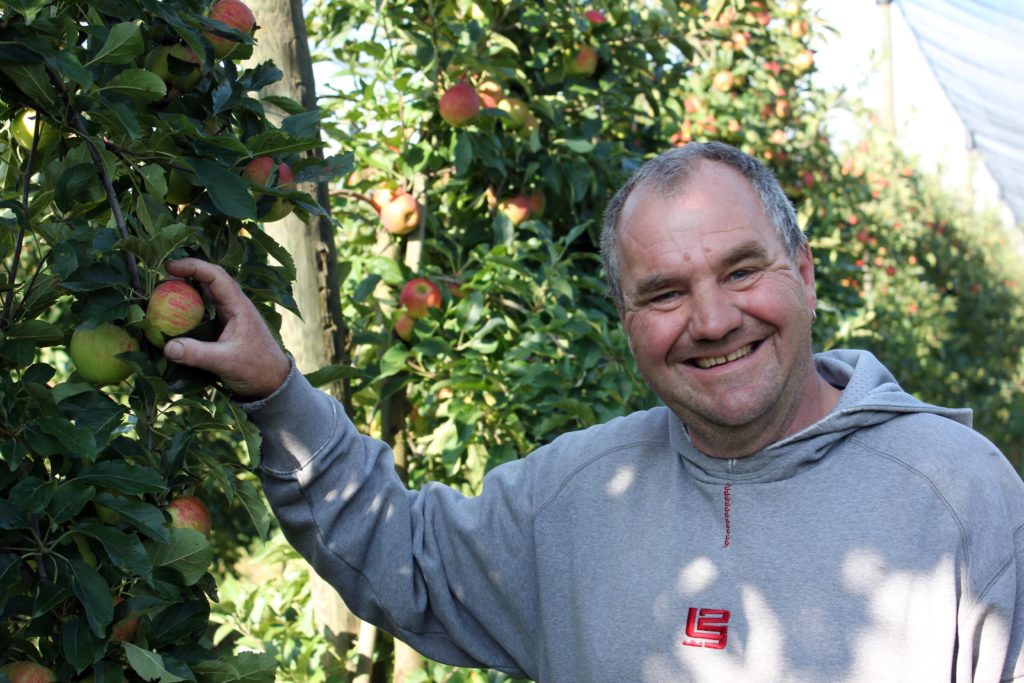 Biohof Hund is located in the mild climate of Lake Constance in the foothills of the Alps, one of the most priviledged fruit growing regions in Germany.
"We were the first fruit growing operation in Germany to dedicate to biocyclic vegan agriculture. We are committed to a cyclical, vegan form of organic farming."
Clemens Hund, Meckenbeuren 
In the upcoming years, Marco and Maik Möller will be the fifth generation to take over their parents' farm in the North of Hamburg, Germany.
Until recently, the farm was run as an organic dairy farm that greatly emphasised animal welfare. However, being convinced vegans, it is not possible for the two brothers to continue keeping their animals, even though their parents had set the highest animal welfare standards, and their farm was considered an outstanding example in this regard.
Marco and Maik Möller are now preparing their farm for bicyclic vegan certification.
Marco and Maik Möller, Lentföhrden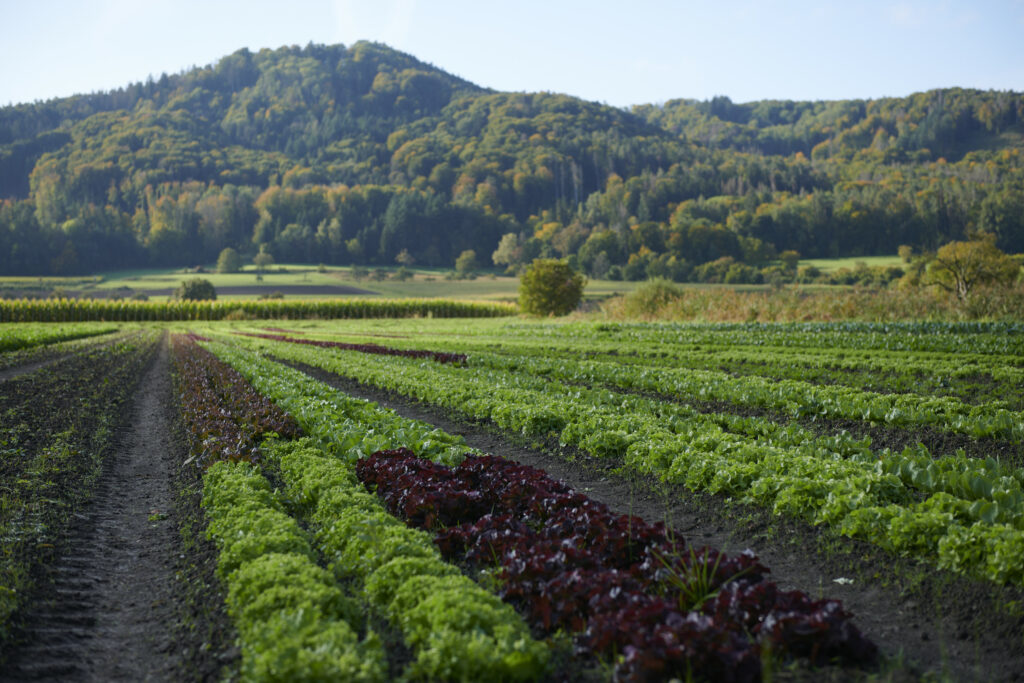 Moosfeld Gemüse GmbH near Lake Constance has been growing high-quality organic vegetables for many decades. Protecting nature and the environment has always been a special concern. The company attaches particular importance to the preservation and promotion of living and fertile soils.
The operation became certified according to the Biocyclic Vegan Standard in October 2023.
Moosfeld Gemüse GmbH, Singen-Bohlingen
PlantAge is the first veggy coop in the Berlin Brandenburg area with the aim of a vegan organic self-sufficiency of its members.
It started its activities in 2019 and became certified according to the Biocyclic Vegan Standard in 2021.
PlantAge, Frankfurt (Oder)
Stylianós & Efthymίa Kotrótsis
Stylianós & Efthymίa Kotrótsis (Stelios and Efi) from Koryfasio near Kalamata in Messinia, south-west Peloponnese, are organic farmers who at the same time run their own oil mill and their own bottling unit. Since 2013 they have been working according to the principles of biocyclic agriculture. Their fields and processing plants are certified according to both, the Naturland and the Biocyclic Vegan Standard.
Stylianós & Efthymίa Kotrótsis, Koryfasio
Christos Bougadis is one of the first organic (and biocyclic vegan) orange growers in the region of Sparta/Peloponnese. He and his sons Giorgos and Panagiotis are specialised in growing the late-ripening varieties Lane Late and Valencia, which can be harvested well into midsummer and which are also distributed via a biocyclic vegan fruit box scheme. In this way the flourishing of their orange groves is an important contribution to the spread of biocyclic vegan agriculture in the region and beyond throughout Greece and even abroad.
Christos Bougadis, Sparta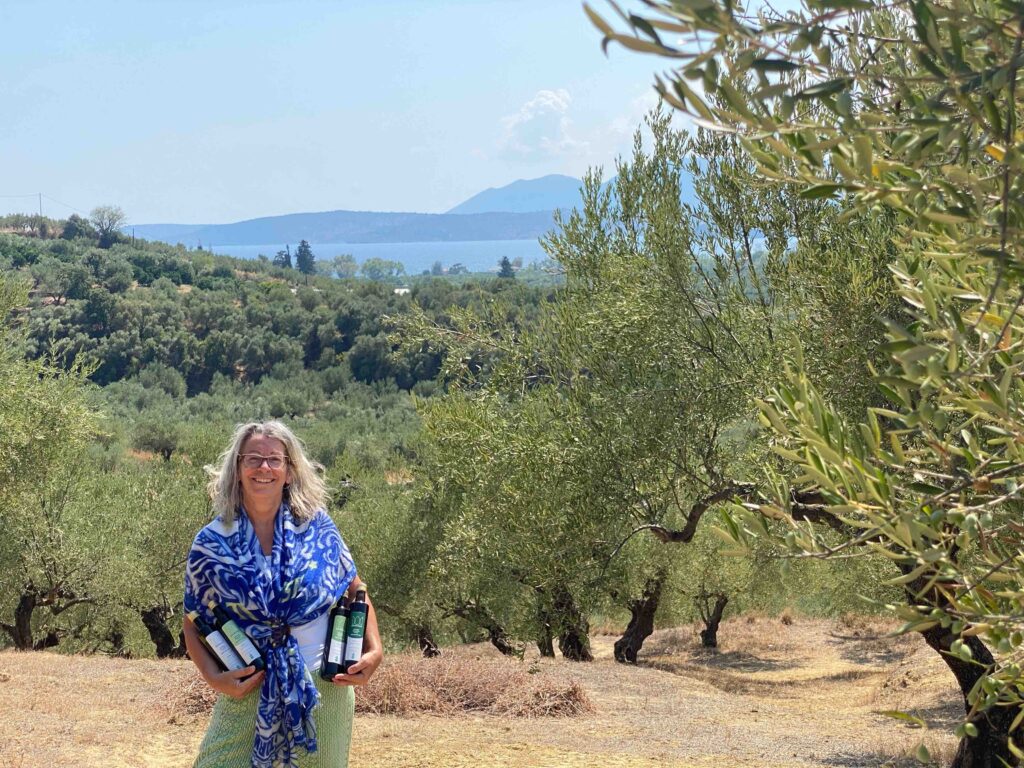 Britta Herzog Organic Olive Grower
Since 2016, Dr. Britta Herzog has been an organic olive farmer in Greece. She certainly knows her olive trees, following all the steps of cultivation, harvesting and production in the oil mill. For Britta, sustainability, organic quality and taste go together in an ideal way. Her high-quality olive oils are produced in a biocyclic vegan way and bottled separately according the locations where they where harvested. 
Britta Herzog's olives groves became certified against the Biocyclic Vegan Standard in 2020.
Britta Herzog, Gythion
In Southern Peloponnese, Biocyclic Park produces quality compost based on olive pomace, olive leaves and grape pomace using the Lübke-Hildebrandt method. After a multi-year refinement process, the compost turns into biocyclic humus soil, which is used on the company's premises for cultivation trials with a wide variety of crops.
BiocyclicPark, Kalamata
Georgios Bougás' farm is located in Aegion on the Gulf of Corinth on the north coast of the Peloponnese. Georgios has been cultivating his farm for many years according to the Biocyclic Vegan Standard and grows lemons, olives and oranges in an exemplary mixed culture. His farm is controlled by DIO (GR-BIO-001) according to the EU organic regulation and the Biocyclic Vegan Standard. He is a member of the Greek-Cypriot organic farm network PANHELLENIC BIOCYCLIC VEGAN NETWORK
Georgios Bougás, Aegion
The Edem Fruits farm is located in the northwest of Crete. In a humid, almost subtropical climate, in the face of the Lefká Ori ("White Mountains"), Apostolos Mylonakis grows his avocados, oranges and other fruits. Because of the abundance of water, Apostolos Mylonakis does not have to irrigate his trees at all. This distinguishes his avocado cultivation from many other cultivation areas, where the high water demand of the avocado trees has sometimes led to considerable negative consequences for the ecosystem.
Since 2022, the Edem Fruits farm has been certified according to the Biocyclic Vegan Standard.
Edem Fruits, Hania, Crete
Οικο Βιο Α.Ε. – Eco Bio S.A. is located in Northern Greece, outside the city of Veria  in a part of the Macedonian plain, which is famous for its stone fruit cultivation, especially peaches and nectarines. The farm, founded by Othon Grigoriadis, produces a variety of products, specifically peaches, nectarines, pears, cherries, pomegranates, figs, walnuts, apricots and also vegetables such as hokkaido squash, potatoes, cabbages, broccoli, spinach, zucchini and peas.
In 2018 it was certified according to the Biocyclic Vegan Standard.
Oiko Bio, Makrochóri Verías
Elefthería Dispyráki-Kopidáki
After many years abroad, Adám Dispyráki, together with his wife Elefthería, took over his father's farming business on the Greek island of Crete in 1985. Consistently among the first to implement innovations in all areas, Adám and Elefthería switched to organic farming in 2012. They produce bananas, sweet peppers, tomatoes and lettuce in an exemplary form of mixed cultivation. For Elefthería, it has become self-evident that vegetables thrive better in plant communities than in monoculture, even in the greenhouse.
In 2020, the farm became Crete's first certified biocyclic vegan vegetable farm.
Elefthería Dispyráki-Kopidáki, Phaistou/Heraklio, Crete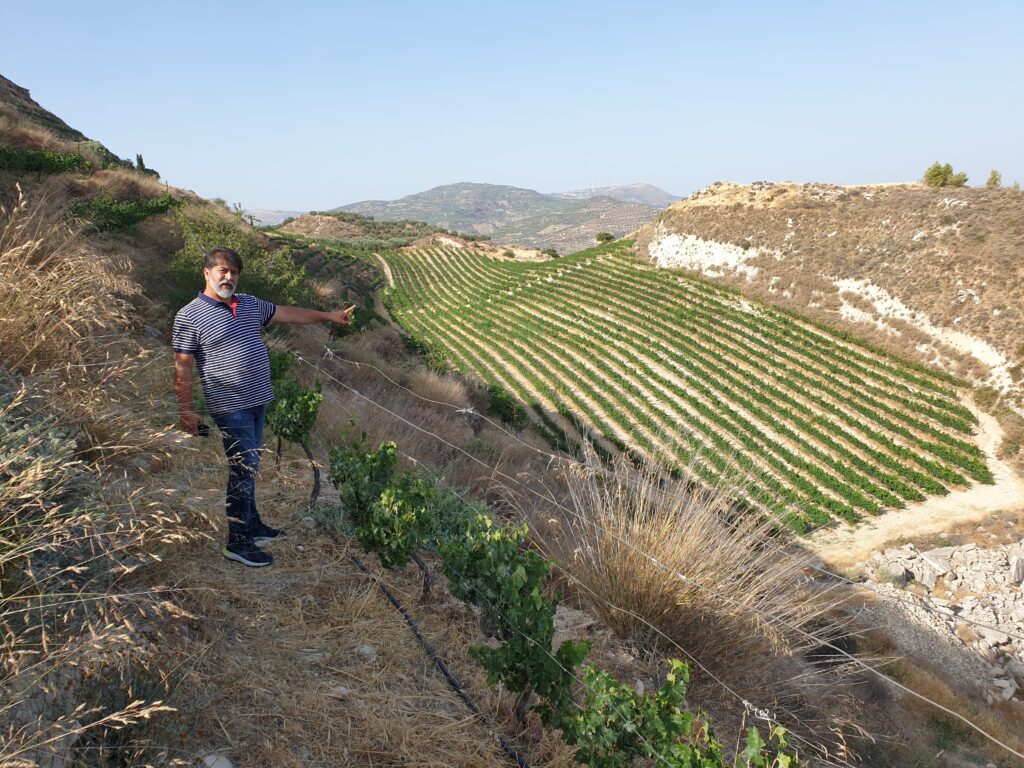 Zacharioudakis Winery is situated the picturesque mountain village of Plouti on the Greek island of Crete. After discovering the art of wine making in France, Stelios Zacharioudakis started his winery together with his wife Victoria on the slopes of the rocky hill "Orthí Pétra" (= "upright stone"), which served as a quarry in ancient times, with grape varieties that had become rare. The unique mineral terrain is far from conventional cultivation areas, embedded in an overwhelming nature with an exceptional microclimate.
Zacharioudakis Winery became certified according to the Biocyclic Vegan Standard in 2022.
Zacharioudakis Winery, Phaistou/Heraklio, Crete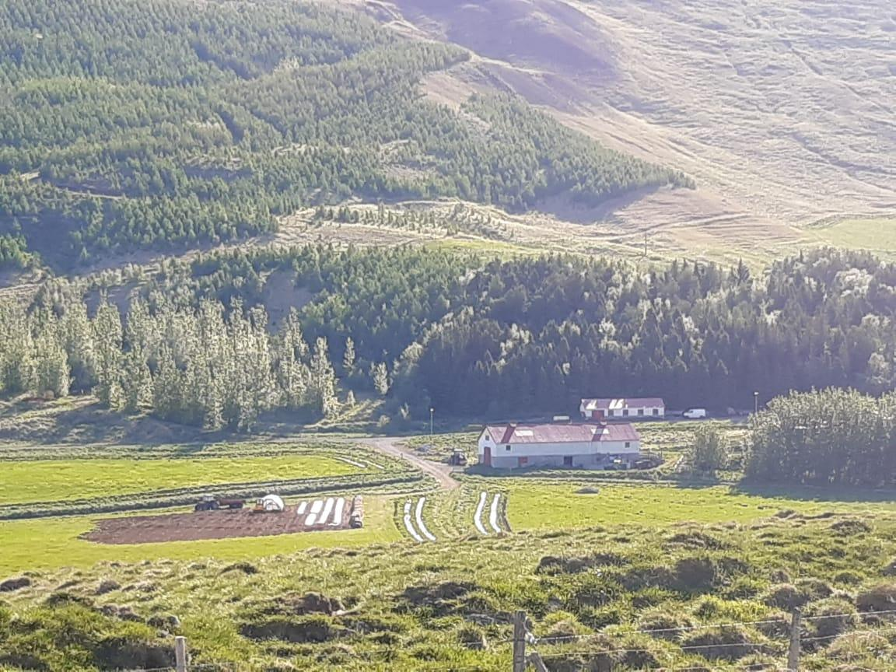 Blöndudalsholar is a farm in the north of Iceland. The owners, Friðgeir Jónasson and Andrea Müller, gave up dairy farming in 2018 and started preparing their farm for organic vegetable production. Since 2022 they have planted about 6000 trees and shrubs for windbreaks. They are also planning to produce Biocyclic Humus Soil.
Blöndudalsholar is in the process of preparing for biocyclic-vegan certification.
Blöndudalsholar, Iceland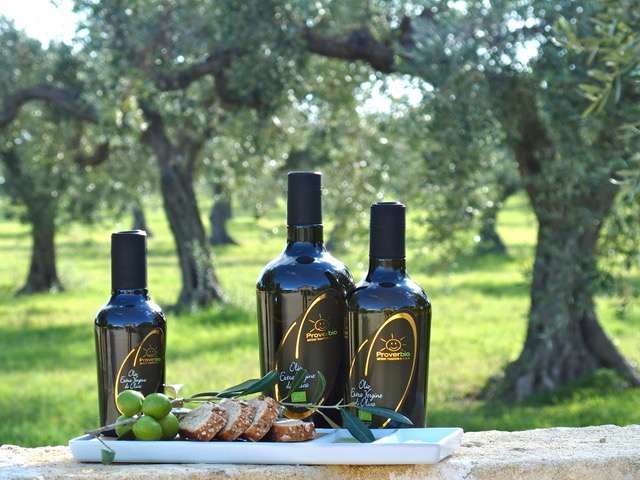 Proverbio is an organic farm with olive tree groves and its own oil mill in the west of Sicily, situated in the hills of Castelvetrano between the height of 50 and 350 meters above sea level. It was founded by Astrid Gambino who, originally from Austria, had bought the farm out of love for this extraordinary land and the desire of living in harmony with nature and the environment. Astrid's ambition is to allow people far away experience the well-being created by the tastes and scents of natural organic olive from Sicily. 
In November 2020 Proverbio became certified according to the Biocyclic Vegan Standard and is now the first certified biocyclic vegan operation in Italy.
Proverbio, Castelvetrano
Isaäc Bos converted his  21-hectare arable farm "De Strokenboerderij" in Weteringbrug in Haarlemmermeer (NH) to organic in 2022. He is an enthusiastic pioneer of strip cropping.
Isaäc's farm has now been awarded the international Biocyclic Vegan Quality Seal.
De Strokenboerderij, Weteringbrug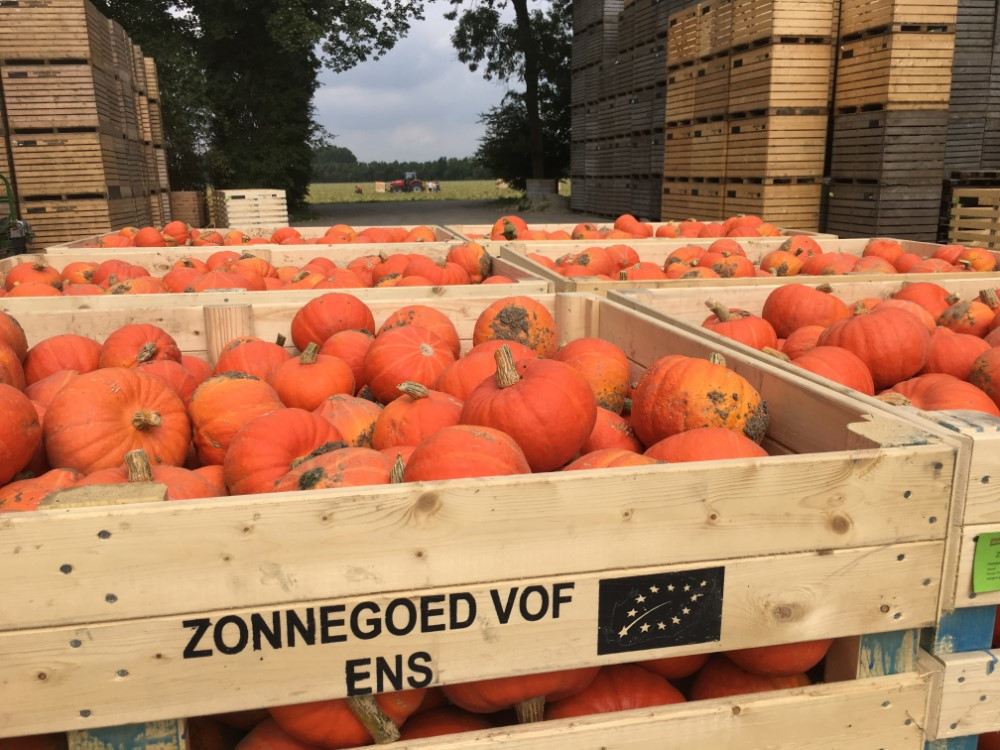 Zonnegoed is a 90ha biodynamic vegetable farm located on former sea ground in the Noordoostpolder in the Dutch Province of Flevoland. For more than 20 years its owner, Joost van Strien, has been growing a large variety of crops such as potatoes, pumpkins, parsnips, carrots, beetroot, peas, green beans, sweetcorn and cut fertilizers (a mixture of luzerne, clover, grass and herbs). In 2020 he has decided to completely abandon the use of animal manure and to turn to a vegan form of cultivation.
Zonnegoed is the first certified biocyclic vegan operation in the Netherlands. 
Zonnegoed, Ens
Bio Farmland is an organic family operation in the western part of Romania. On 800 hectares of land, it produces cereals, herbal teas and mustard. It started in 2004 as an organic farm working on a completely plant-based manner without animal husbandry and strictly avoiding all inputs of animal origin. 
Bio Farmland became certified according to the Biocyclic Vegan Standard in February 2021 as the first biocyclic vegan operation in Romania.
Bio Farmland, Județul Arad
Villands Vånga Veganträdgård
Villands Vånga Veganträdgård is a small scale veganic farm in the south of Sweden, founded by Peter Albrecht who has managed the farm without animal inputs for 10 years. Peter supplies market vegetables to local consumers and restaurants, and he also grows seeds for a seed firm that sells seeds to local small scale farmers in Sweden. During the farming season he organises veganic farming courses, farm tours and other educational events.
Villands Vånga Veganträdgård is preparing for biocyclic vegan certification.
Villands Vånga Veganträdgård, Villands Vånga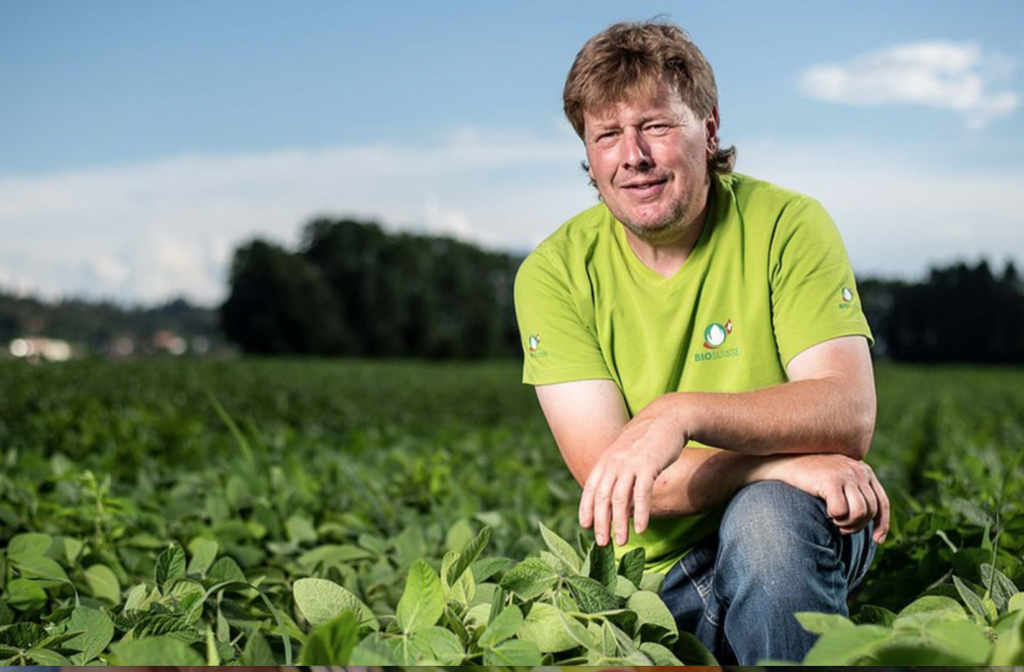 Michel Arn, a qualified farmer, lives and works together with his wife Ruth Jenni and daughter Rina in the tranquil village of Büetigen in the Swiss lake district of Seeland. The farm comprises 21 hectares of arable land, 1.5 hectares of which are ecological compensation areas. From 2015 onwards, the farm has been managed according to the guidelines of Bio-Suisse.
In 2020 BioVegan Seeland became certified according to the Biocyclic Vegan Standard as the first biocyclic vegan operation in Switzerland.
BioVegan Seeland, Büetigen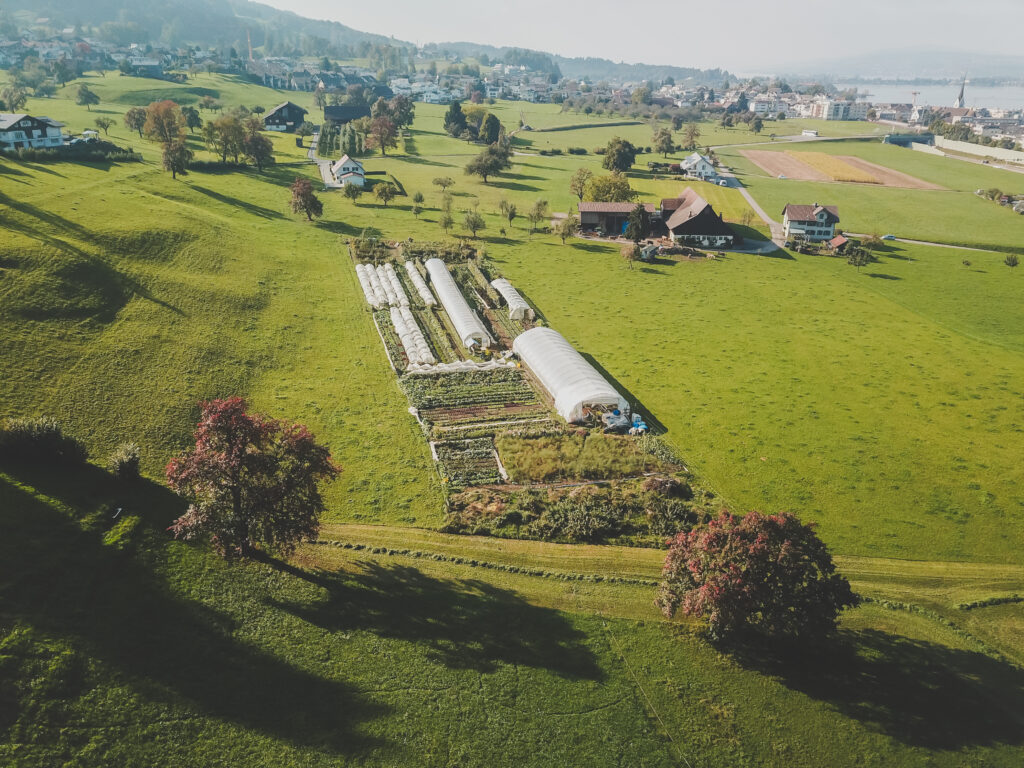 Solawi Halde, a community-based cooperative in Altendorf on Lake Zurich, has been working as a veganic operation since it started in 2018. On 60 acres, the small farm grows various vegetables, berries, fruit trees and flowers through manual labour. Heavy machinery and tractors are deliberately avoided to give the soil as much care as possible.
The farm is preparing for biocyclic vegan certification.
Solawi Halde – Altendorf, SZ, Zürichsee
Northwood Farm is a 134-ha former beef and dairy farm in Dorset/England that is transiting to veganic cereal growing. When looking for the most suitable and economically viable way to fully convert to a veganic farming system, the owner, Laurence Candy, came across the Biocyclic Vegan Standard which perfectly matched his requirements, especially when it comes to the possibility of growing cereals and also with respect to a necessary transition period from animal husbandry to a fully plant-based farming system. 
Now Northwood Farm became certified according to the Biocyclic Vegan Standard in October 2022.
Northwood Farm, Sturminster Newton, Dorset