Proverbio is the story of a journey: Astrid's journey, she left Austria for a holiday in Sicily and dazed by this land, its weather, its smells and tastes, the unlimited and sunny regions, where the silent vineyards and olive tree groves cling to the arid and hot soil. Sicily was love at first sight and immediately swept her off her feet.
"I liked everything, and the wish and the desire to know this wonderful place entirely increased every day. I wanted to explore everything. From the sea to the mountains, from west to east, from the beautiful natural beaches interrupted only by rocky and pebbly zones, up to the hinterland rich of history and infinite scents. For the first time in my life my only desire was to continue living in this magnificent place".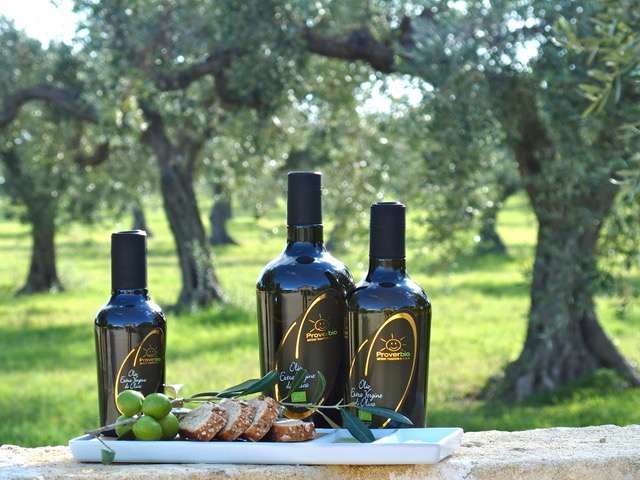 So a dream was born, the dream of starting an entrepreneurial activity with a big ambition: to let people – who live far away from Sicily – try the same sensation of well-being through tastes and scents of the natural and organic olive oil from Sicily. Out of love for this extraordinary land and the desire of living in harmony with nature and to respect the environment, Astrid's entrepreneurial activity starts with the purchase of the first organic farm, the olive tree groves and the oil mill. She strongly believes in a healthy lifestyle through wholesome eating.
Proverbio oil is prepared from the olives "Nocellara del Belice" – grown organically on the hills of Castelvetrano between the height of 50 and 350 meters above sea level. The harvest is typically done by hand, the olive oil is cold pressed without any chemical treatment. It is a method of mechanical pressing for the extraction of vegetable oils.
In November 2020 Proverbio became certified according to the Biocyclic Vegan Standard and is now the first certified biocyclic vegan farm in Italy.
Società Agricola Proverbio s.r.l.
Strada Provinciale 56, Km 7,700
91022 Castelvetrano (TP)
Sicily – Italy
phone: + 39 334 659 1998
Proverbio: Olive Oil From Sicily Now Available in Biocyclic Vegan Quality
April 2021